TAT Teen Titan
Total Domination for Madison Rabbithead at Spartan Bodybuilding Competition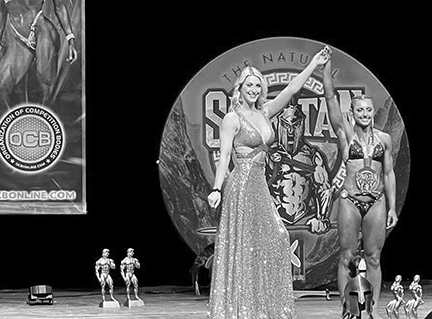 The champion Madison Rabbithead
Photos submitted by Tanner Rabbithead
By Logan J. Davis, 
Contributing Writer
The ancient Spartans were amazing athletes and warriors. The Spartan men began training their sons at a very early age to be the strongest and healthiest they could possibly be for the battles that lie ahead. In the case of Tanner Rabbithead, he has been the trainer of his
Madison Rabbithead and her father Tanner Rabbithead
daughter, Madison Rabbithead, for the last few years and passed on not only his genes but his philosophy and the importance of being physically fit. Today, Madison owns a Spartan helmet that was put on her head after she won the Natural Spartan Physique Competition held in Fargo on March 26th at North Dakota State University's Festival Hall. The competition attracted many bodybuilders in several men and women divisions. Madison swept the women's competition by winning five divisions in the annual event proving she has warrior blood flowing through her veins as her father does and her MHA Nation ancestors all did. 
Madison Rabbithead has been blessed with great genetics and the inspiration of parents who are both great role models, but in the last three years, together the father-daughter team of Tanner and Madison Rabbithead has put in some hard training to get to where they both are today. But it is Madison who recently reaped the rewards of winning trophies by being onstage at her very first bodybuilding competition.
Tanner Rabbithead noted the regimen and training and diet that has brought his daughter to the pinnacle of the sport at a relatively young age.
"It took about eight weeks of eating clean to get cut like she was", said her father. "It was her first competition and she won all those divisions out of a total of 14 females from all over the United States. This was the first time it was ever held in Fargo so it was close to us. The next competition she wanted to enter is being held in Iowa but it's the day before her graduation from high school so she can't do that one, but she is looking at some future competition later this year."
Madison had to do polygraph testing to make certain the Breckinridge High School senior had not been taking any anabolic steroids or performance enhancing supplements. Madison was the youngest competitor by far in the event and that made her father extremely proud of his daughter.
"It was one of the happiest days of my life and I'm so proud of her. I got teary-eyed seeing all of her hard work pay off like that," said Tanner Rabbithead. "The day Madison won all of her divisions in Fargo was 11 years ago to the day that I competed in my first competition at Festival Hall at NDSU."
The training duo trains different body parts each day, according to Tanner Rabbithead. He noted that cardio is very important and that is especially true in the days leading up to the competing in any bodybuilding event. There are posing times on stage that require about five minutes of continuous flexing. The time up on stage is strenuous because the competitors have to keep all of their muscles tight and taut every second.
"All that flexing going on and at the same time, she had to keep on smiling," recalled Tanner Rabbithead.
Tanner Rabbithead competed for six years himself as a bodybuilder after college. In his opinion, exercise is the very best medicine. So, he passed that philosophy onto his daughter.
Madison received a Spartan helmet and four medals and two trophies for all of her wins. She won the team, novice, open and debut divisions. She was also the overall winner of the Natural Spartan Physique Competition and that win got her that coveted Spartan helmet. The motivated teen has always been inspired by her father and his zest for working out and staying healthy through exercise.
When I was really young, I remember my dad going to do his cardio and he would bring me to the track to run with him," said Madison. "Last fall I decided to do a competition myself after getting into bodybuilding with my dad and that it would be rewarding to do a show. I wasn't really expecting to win but I just trained hard and watched my diet. I also practiced my poses by watching videos and my dad would guide me through the same order that they usually have on stage."
Although Madison was successful in track and field through her high school years, she is now focused on bodybuilding – and along with school requirements and a demanding work schedule at her job, Madison puts in an extraordinary number of hours doing what she loves best. She trains, studies and works at Red River Human Services Foundation as a Direct Support Professional (DSP). As a DSP, she helps care for disabled people and that demonstrates that she not only takes care of herself, but she also is willing to takes care of other who are not as blessed as she is physically. 
Further, her mother, Janee Rabbithead, is also maintains a healthy lifestyle although not to the extent of her husband and daughter. She also in the health care profession working as a care giver for the disabled.
Madison is the granddaughter of Monica (Barone) Rabbithead and the late Ronnie Rabbithead of MHA Nation.The Rabbithead dynamic duo are both members of the Water Buster Clan.