For the Love of God and the Gam
First Annual Cheyenne Packineau Memorial Tournament a Moving Experience for Teams, Fans, Family and MHA Nation
By Logan J. Davis
The love of basketball was strong in the heart of Cheyenne Packineau and the world watched as the MHA Nation tribal member reached incredible heights and success on the basketball court. The game was a major part of her life that she poured so much into. It was a joy for her proud family to witness how gifted she was as a young girl from the time she began playing. Cheyenne was a special person who will live on through the wonderful memories and remarkable achievements she left for her family and friends to cherish. She traveled a spiritual journey that may have been cut short, but that spirit was present within the MHA Nation and her family last week and carries on with the memories shared during a special basketball tournament held in her honor. 
Cheyenne Packineau was also known for her stellar defense as she gets ready here for one of her patented blocks in the state tournament
The family of Cheyenne Packineau begin the honor dance with her father Pat Packineau wearing a traditional war bonnet
All through her young life, Cheyenne carried a spirit in her that was full of happiness and a love for her family and friends that ran very deep. Friends say she could light up a room with her smile and when she got on the basketball court, she could light up the scoreboard with her amazing skills. Her love for the game was the reason her family decided to host the 1st Annual Cheyenne Packineau "Cherry Blossom" (M'aacu Nagabag'ish) Memorial Basketball Tournament. Although delayed for a year because of the pandemic, the tournament brought many talented teams to the MHA Nation and the competitiveness of all the teams emulated the ultra-competitive nature of the tournament's namesake. Cheyenne was a force on the court on both the offense and defense sides of the court. She was a great source of pride for Parshall and the entire MHA Nation – and she remains one for many who recall her gifts she shared so willingly and intensely with her family and community.
"Cheyenne had a lot of friends in the basketball world. Basketball was definitely her first love, and she had a great career. She has the highest scoring record in Parshall girls' basketball history, and she helped the Parshall girls to the only state tournament in the girl's team history. She played with her cousins at Parshall, and her Uncle Mervin was her coach when they went to state. It was a history-making team a few years back. She played college ball at Williston State and played all over in the independent tournaments. We tried to make as many of her tournaments as we could, but we couldn't make them all – like the time she went and played in a tournament in Hawaii. We felt the best way we could honor her is doing something she loved. Never in my wildest dreams did I think this tournament here would be so big. We are going to do three more tournaments as memorials," said Pat Packineau, who explained how the family is going to continue the legacy that his daughter built. Both Pat and Rhonda Packineau feel that they were presented a gift from God with Cheyenne's birth.   
Pat Packineau emphasized that the importance of the sponsors and volunteers was critical to the success that the tournament. He credited several people and organizations and said there was an incredible amount of support in various ways. Packineau noted in particular Northeast Segment (Parshall) Fitness and Recreation Specialist Mel Four Bear was a key part of the tournament success. He emphasized that his family will never forget the outpouring of support from so many and every sponsor and volunteer is appreciated by the Cheyenne Packineau family.
As her father noted, Cheyenne played high school, college and independent basketball in her career. Wendi Wells, who manages and plays on one of the women's teams (All Nations) that participated in the tournament remembers Cheyenne fondly – both as a player and a person.
"Cheyenne used to play on our amateur team in Minot and she was an amazing athlete. So extraordinarily strong and she was just as strong in her spirit off the court. She loved to laugh a lot and see others laugh. She was a smart player and could figure out a play instantly. As far as this tournament, I was happy to see her memory honored and you don't see many memorial tournaments like this that are so special and so well-managed," stated Wells.
Mervin Packineau relied many times on the talents of his niece as a coach because of her savvy and skill she possessed. Being the only girls' team coach to ever make it to state from Parshall High School, there are special memories for him, and he is happy that he was a part of Cheyenne's life in basketball and coach. Mervin Packineau shared the same love for the game with his niece and forged a close bond with Cheyenne. 
The basketball teams, fans and her family all watched a video near the end of the tournament together that showcased just some of her highlights of her career on the court. It was an emotional time that brought the spirit of Cheyenne Packineau into the entire event center.
Rhonda Packineau was embraced by relatives as she watched the video on the big screen at the Four Bears Event Center that was put together by Eric Severance. The video clips displayed some of the highlights of Cheyenne from the regional championship and the state tournament games the Lady Braves played in that historic year.
"Eric took such care and did such an amazing job" stated Rhonda Packineau, who played basketball in Halliday and at Bismarck State College. "Many of her friends and teammates have shared some experiences they remember about Cheyenne. We would like to thank all of the people who helped make this tournament possible. Cheyenne was a beautiful person loved dearly by her family and friends and most importantly, her son, Kasten."
Cheyenne Packineau also wanted to play a role in the health of people. She was a person who was compassionate, so she chose a field of study that would allow her to make a difference. She was studying nursing and that was a goal she would have certainly reached and excelled at – given her determination and love for life.
Every team was given the chance to play the game they love through the memorial tournament and the spirit of Cheyenne Packineau that her family felt so much during each game that was played in the honor of a young woman missed by her loved ones.
Three MHA Nation elders did the honor song for Cheyenne Packineau at the Four Bears Event Center on Sunday
Ashly Hall made her way down the sideline in action on Sunday afternoon
Every game in the First Annual Cheyenne Packineau Memorial Tournament was ultra competitive like the namesake of the tourney was in her time as a player
KayCee Packineau worked to get her shots off against strong defenders in the tournament
Hannah Golus and Katie Hove were two teammates who made the all-tourney team and recieved their awards from Rhonda Packineau on Sunday
Shanaye Packineau-Williams gets a fallaway to go down in a nifty move
Jayln Hall goes into the paint to lay in a tough shot in the Cheyenne Packineau Cherry Blossom Memorial Tournament
Shanaye Packineau-Williams gets her shot to go in heavy traffic
Steve Aguilar of Burning Feather Oil Services makes his move to the bucket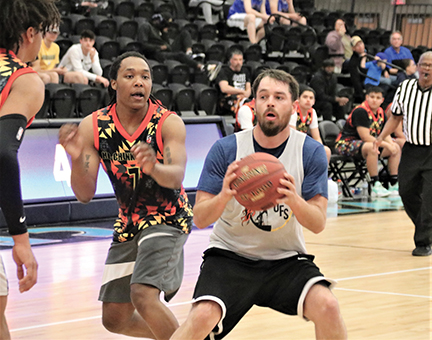 Nathaniel Packineau attracted defenders as he drove into the lane in his teams victory on Saturday afternoon
Neil Packineau pops a long three pointer to start a scoring run for his team that led to a win on Saturday
Parshall went to state with Cheyenne Packineau (32) playing at a high level using her immense skills at center
Fourth place went to Da Aunties in the womens division that had a pool of outstanding basketball talent
Mel Four Bear of Northeast Segment Fitness and Recreation said the games were all entertaining and he was happy to help bring the tournament to the fans, MHA Nation and the family of Cheyenne Packineau. There were over 38 men's teams and over 20 women's teams in the tournament. Gyms all over the MHA Nation were utilized in Parshall, New Town and at the Four Bears Event Center.
The teams that placed from first to fourth place all received some great prizes and the family had a giveaway in gratitude for many individuals and sponsors of star quilts, blankets and other gifts. The honoring dance for Cheyenne was an emotional time for Pat and Rhonda Packineau as they danced around the event center with family members and several of the basketball teams.
The finals games were held on Sunday at the Four Bear Event Center. The champions of the women's division were X-Factor, second place went to Burning Feather Oil Field Services (BFOFS), third place to All Nations and fourth place to Da Aunties.
In the men's division, the champions of the inaugural memorial tournament were The Plainzmen. Second place went to Fast Break Warriors. That championship game went into overtime, so the final game was a fine example of the thrills that the fans enjoyed throughout the tournament. The third-place prizes were won by the Santee Drifters and fourth place was captured by Burning Feather Oil Field Services.