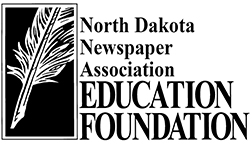 Stories from the North Dakota Newspaper Association Education Foundation
This week's Stories – 
Local districts prepare to address 'learning gaps' caused by pandemic
North Dakota acts to support military and first responder families
Local food pantries survive pandemic thanks to community support
House kills permanent daylight savings time bill
Local districts prepare to address 'learning gaps' caused by pandemic
Funding for summer programs to help schools 're-engage' students after remote learning
By Brayden Zenker, NDNAEF
BISMARCK – As the school year starts to wind down, school districts across the state are preparing summer school programs to address learning loss as a result of the pandemic. 
Superintendent of Public Instruction Kirsten Baesler previously presented 19 different strategies to address learning loss to the House Appropriations Committee's Education and Environment Division. After developing the strategies, educators and other interested parties provided feedback. The group cautioned against a "one-size fits all" approach and supported allowing individual school districts to develop plans best suited for their students.  
Nick Archuleta, president of North Dakota United, the union for educators in the state, agreed that districts need to be given freedom to address problems in their own district. 
"You'll have families and school districts that would be upset if that 'one size fits all' plan doesn't fit them," he said. "We need to narrowly focus on those students who really need the extra help to get caught up to where they need to be on their academic continuum." 
Baesler and the Department of Public Instruction have since said they will leave addressing learning losses to individual school districts, and some school districts are looking at creative ways to reengage students.
Jill Louters, the New Rockford-Sheyenne superintendent, said they aren't seeing as much of a learning loss as expected. This summer, along with traditional summer school programs, the district will introduce a program aimed at increasing student engagement.
"There are students across the board who may be struggling with their learning, but it may not be evident through test data," Louters said. "They may be performing at a level which doesn't indicate they won't be proficient on state and local assessments, but they may not be fully engaged in our programming."
The summer camp-like program will not be graded and will teach students through unconventional methods. Programs like "Kitchen Chemistry" will focus on incorporating science and cooking skills in a cooking class. Students will make candy, pickles, bread and other foods and discuss the science behind them. Other programs will follow a similar approach. 
"It's really more about reengagement in learning," she said. "It's not directly connected to a learning standard. There is simply academic freedom for instructors to reengage our students."
Louters said that money received from Covid relief helped fund the program. She explained that if the program is successful, the district will look for other ways to fund it. 
"If we find this to be effective in terms of addressing student engagement, I would imagine going forward that we will appropriate general fund dollars to support this kind of programing on an on-going basis," Louters said. 
Michael McNeff, superintendent of Rugby Public Schools, said the Covid relief money was essential. In most years, summer school programs in Rugby are very light, focusing mostly on students with disabilities. However, some years there isn't enough funding to do a program at all. 
"Most districts wouldn't be making these types of programs, just due to the fact there isn't a lot of money left over when you wrap up a school year," McNeff said.
McNeff has projected that relief money should be able to fund summer school programs for the next two to three years. 
"We are really digging in and making it a more robust program," he said. "It will be hard to look back in a couple years when these funds dwindle and think about how can we still make this work and be more sustainable." 
According to McNeff, the district has identified 30 to 40 students who will need summer school. He said a majority of the learning loss for students centers around literacy. Summer school programs will focus on phonemic awareness, phonics, fluency, vocabulary and comprehension.  
"We're hoping that when we do this robust program this year that those students are going to be able to hit the year running," McNeff said. 
Shawn Leiss, director of student services at Dickinson Public Schools, said the district is still assessing how serious the learning loss is there.
"Earlier in the year there were some indicators that there may be learning gaps for some groups of students that could be attributed to the pandemic and remote learning scenarios," he said. "This data will help us better understand any impacts the pandemic may have had on learning outcomes."
Leiss said, after assessing the data, the district would try to determine what skills students have yet to master and address those shortfalls.
The district will use student assessment data to determine what standards aren't being met to develop targeted interventions. Summer school classes will also be smaller to address students' individual needs.
"Dickinson Public Schools aims to meet students where they are and personalize instruction to match specific learning gaps that may be present," Leiss said. "In addition to traditional direct instruction from teachers, students will spend a portion of their summer school day utilizing computer aided instruction that is closely matched with their skill level and instructional needs."
North Dakota acts to support military and first responder families
Burgum cites 'incredible sacrifices' of families as he signs bills
By Dylan Sherman, NDNAEF
BISMARCK –  In a Capitol ceremony last week, Gov. Doug Burgum signed into law HB 1435, which ensures the families of first responders who die in the line of duty will have their health insurance covered.
"House Bill 1435 acknowledges the incredible sacrifices made by the family members of our courageous law enforcement officers, firefighters and other emergency responders every time their loved one walks out the door to go work," he said after signing the bill.
Burgum said this is a way for the state to show its gratitude with actions and not just words to first responders.
The signing was attended by bill sponsors and first responders. Rep. Zachary Ista, D-Grand Forks, was the prime sponsor, and when he introduced the bill to the Senate Appropriations Committee, he said the measure was partly in response to the death last year of Grand Forks police officer Cody Holte.
"There are no laws we can pass to eliminate entirely the risk these heroes face on the job," Ista said. "But what we can do is to make sure we take care of surviving spouses and children of our fallen heroes when tragedy does strike."
The law allows for continued health coverage to the surviving spouse and dependent children of any firefighter, police officer, corrections officer or emergency medical personnel killed in the line of duty.
Ista said North Dakota follows 17 other states ranging from Alabama to California to adopt similar policies.
"We owe our fallen heroes this debt of gratitude and also tangible protections to what surely must be the darkest time imaginable for any family," he said.
A fiscal note states the bill will cost the state an additional $210,000 per biennium, with premium costs spread through the North Dakota Public Employees Retirement System. 
Scott Miller, the executive director of the NDPERS program, provided neutral testimony to the committee. "We have information on five line-of-duty deaths since Jan. 1, 2010," Miller said. The assistance will be retroactive to that date. 
Miller said the cost to the state would depend on whether all five families choose to participate in the program.
Despite passing by a vote of 43-4 in the Senate, the bill faced some opposition on the floor. 
"The idea is good, but the problem with these good ideas is that sometimes the backend of it isn't such a good idea," Sen. Oley Larsen, R-Minot, said.
Larsen said the state and the taxpayers would have to pay the full policy when the families could get a better deal out on the marketplace.
HB 1435 is not the only bipartisan bill seeking to expand family benefits. HB 1278, signed by the governor last month, will provide unemployment insurance to military spouses who are relocating.
Rep. Corey Mock, D-Grand Forks, introduced the legislation and said it is supported by the U.S. Defense Department.
"North Dakota is one of only two states in the country that does not allow military spouses to qualify for unemployment insurance when they are relocating to a permanent change of station," Mock said.
Prior to this bill, North Dakota law said voluntary separation between employer and employee would not qualify the employee for unemployment, despite the military spouse not having a choice.
"HB 1278 would close that gap, by allowing military spouses transferring away from a North Dakota military establishment to qualify for unemployment benefits," Mock said.
Mock said the change would place North Dakota on the same playing field as other states.
"It is important to ensure that North Dakota is in the best position possible to maintain our existing Air Force bases in Minot and Grand Forks," he said, "but also to put us in the driver seat should we have the interest in expanding our new missions to be housed in North Dakota."
Jay Sheldon, strategy and policy officer for the North Dakota National Guard, testified in favor of the bill as well.
"Bills like 1278 go a long ways in checking boxes for North Dakota to continue to be (military friendly) and lead the way on military friendliness," he said. 
Sheldon said that, according to the 2019 Military Economic Impact analysis, with 7,300 active duty members in North Dakota, 1,900 transfer in and out of the state annually. In addition, an estimated 7,000 people are military dependents who "bring a large economic impact to the state. In the last few years, that has been over $1 billion a year."
The House approved the bill 87-4, the Senate 46-1.
Burgum said in a tweet after signing the bill "This is yet another example of how we're working with the military, veterans, legislators and others to make North Dakota more military friendly."
Your content goes here. Edit or remove this text inline or in the module Content settings. You can also style every aspect of this content in the module Design settings and even apply custom CSS to this text in the module Advanced settings.
Local food pantries survive pandemic thanks to community support
While food insecurity rates increased in the past year, food pantries were able to keep their shelves stocked but need more volunteers
By Alexandra Kautzman, NDNAEF
BISMARCK – To help ensure children have access to nutritious food, the North Dakota Department of Public Instruction and Department of Human Services recently announced a new food assistance program for families who qualify for free or reduced-price school meals.
The Pandemic Electronic Benefits Transfer program provides EBT cards for eligible families to use when their children are distance-learning at home. The benefit equals $6.82 a day. 
Jared Slinde, communications manager for Great Plains Food Bank, said the food bank advocates for programs like this, which helps keep individuals out of poverty and away from food insecurity. 
Slinde said there was a major increase in need since the pandemic started. He said Great Plains is currently serving one out of six individuals in the state, an increase from one out of eight in 2019. Last year, they provided an additional 5 million meals, more than half of those going to children and seniors.
During the pandemic, Great Plains experienced a decrease in food donations and had to supplement its supplies by purchasing food. Slinde said the organization was also desperate for volunteers.
With financial aid and donations coming in again, Slinde said the shelves are restocked and things are returning to normal.
"The need is still high and it's not going to go away anytime soon, but I think we're in such a good place now compared to where we were a year ago," Slinde said. "We were able to rise to the challenge and show that we were able to fill that need." 
April Smith is the vice president of the Cavalier County Emergency Food Pantry, which serves about 12 households a month. She said despite running low on essential items, her pantry fared well during the pandemic. She attributed that to generous donations the pantry received from current and former community members. 
"When the world was going crazy and everything was locked down, people were still making sure that the community and the people in need were taken care of," Smith said.
Thanks to grants and monetary donations, Smith said the pantry is financially doing better than ever before. 
Kathy Jahner, treasurer of the Adams County Food Pantry, said her pantry had no problem keeping its shelves stocked during the pandemic. She said local organizations are always organizing food drives and making monetary donations. 
"We are in a very nice community where people are always giving," Jahner said. "We are fortunate that we have the people that we have and we're grateful for all that they do."
Coordinator Sharon Bladow said the Richland Wilkin Food Pantry in Wahpeton is doing fine in donations but could use some extra helping hands. The pantry is open Monday through Thursday and serves 200 people a month. Bladow said volunteers are vital to staying open.
"We are always looking for volunteers," Bladow said. "Our pantry is open some of the longest hours in our area so we do have a need for volunteers all the time. We can't do it without them." 
Smith said finding volunteers has also been an issue. Currently, the Cavalier County Emergency Food Pantry is open from 2 p.m. to 4 p.m. on Wednesdays.
"We have limited hours and that's because we don't have as many volunteers," Smith said. "We would love to have some evening hours on a routine basis, but it is hard to find that availability."
While the pantry doesn't need any financial assistance at the moment, Smith said a state program geared to specifically help elderly clients would be beneficial. She said some elderly people in her community cannot get to wherever the food assistance is coming from. Since they are in a rural area, there are also no taxis, rideshares or delivery options available. 
Bladow also thinks a program targeting seniors would be best. She said RW Food Pantry serves a low number of seniors. She said this is probably because they can't make it out to the pantry.
While things are improving, Slinde said food insecurity rates are still high across the state. In order to solve the hunger problem, he said it is going to take a group effort. 
"It takes people at all levels being involved with this," Slinde said. "Everyone can make a difference in this. All of us coming together is going to keep us moving forward to solving hunger in our area."
House kills permanent daylight savings time bill

 
By Dylan Sherman, NDNAEF
BISMARCK – Despite originally passing in the House, a bill that would have made daylight saving time effective in the state all year was rejected when it came back with Senate amendments. The bill failed by a vote of 36-56.
As amended, HB 1371 would have made the switch if neighboring states and Congress followed along, and that qualification caused Rep. Bill Devlin, R-Finley and the measure's original sponsor, to speak against passage. 
"I never expected a leader like North Dakota to wait for three other states to do something before we could do it," Devlin said. "I have no intention of voting for this bill."
There was support for the effort, which had been attempted in several previous sessions. Rep. Jeffery Magrum, R-Hazelton, called it a good start. "This looks like a good option," he said. "At least it is better than nothing." 
In advocating for the change last month in the Senate, Sen. Jason Heitkamp, R-Wahpeton, argued that "people do not like springing ahead and falling back on a yearly basis. The citizens of North Dakota want to spring ahead and stay there."
Magrum said he hoped that adoption of bill would encourage North Dakota's neighbors – Minnesota, South Dakota and Montana – to approve similar changes.
Arguments against permanent daylight saving time came during committee hearings on the bill, including suggestions it would damage health due to mornings having less daylight.
A similar bill, Senate Bill 2201, was killed by the House last month.