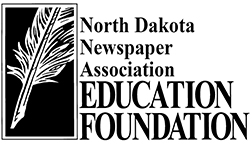 Bill seeks more transparency in political advertisements
House Bill 1451 would require independent expenditures on political advertisements to disclose any of its donors who have donated more than $200
By Dylan Sherman
N.D. Newspaper Association Education Foundation
BISMARCK – While candidate campaigns, political action committees and ballot measure sponsors have to disclose their donors over $200, independent expenditures do not have as much transparency with their donors.
Ellen Chaffee, a board member of North Dakotans for Public Integrity, is part of the movement to pass HB 1451, which would require independent expenditures to disclose donations of over $200.
"[Independent expenditures] may relate to a candidate or campaign, but it has not got any conjunction with the actual candidate," she said.
Chaffee said any group working to oppose a citizen-initiated measure is considered an independent expenditure group. 
HB 1451 would bring independent expenditures into the same disclosure requirements that are already required for candidates, political action committees and ballot measure sponsors.
"Part of the philosophy of this bill is that if you are not willing to be accountable for what you are doing then we don't want you influencing our voters," she said. 
North Dakotans should know who is trying to influence their votes, said Chaffee, especially if it is someone from out of state.
"If you don't know who they are, you can't think of what their motives or hidden agendas might be," she said. "A lot of people in North Dakota are deeply offended when someone from out of state tries to influence our votes."
With current law, the only disclosure is the name of certain groups who have paid for advertisements, Chaffee said. 
"Many of these organizations come up with these lovely names and they lull us into thinking that their values are the same as ours," she said. 
The amount of independent expenditures made in an election cycle depends on what ballot initiatives are being voted on, Chaffee said.
Since 2012, the number of independent expenditures has varied depending on ballot measures, with 2014 seeing 117 different filers and 2020 seeing only 11, according to the North Dakota Secretary of State campaign finance records.
In 2014 the 117 different filers spent over $11.6 million in North Dakota, the most spent in the last 10 years, according to the records. In 2020 spending only reached about $350,000, but Chaffee believes that is because there were not as many controversial ballot measures.
"At the state level it's a rollercoaster, because it all depends on if there are ballot initiatives that year, and if they are controversial," she said. 
While the bill's sponsors are Democrats, Chaffee said she believes it is a bipartisan issue, as independent expenditure groups support liberal causes as well. "All sides can use this, which makes revealing the sources all the more significant," she said. 
Karla Rose Hanson, D-Fargo (District 44), agreed. "The public should know who is spending money to influence the outcomes of our elections," she said, and making independent expenditures transparent fits with policies already in place in North Dakota. 
"This would create consistency with how political candidates, political parties and political action committees all have to report who makes donations to their campaigns," she said.
Rep. Jason Dockter, R-Bismarck (District 7), chairs the Political Subdivisions Committee, which will consider the bill. He hadn't examined it yet, but he said last week that more transparency in political spending would be beneficial to all in North Dakota. "It doesn't matter if it is a Republican or Democrat issue, it's just transparency for the public," he said.
Once the bill has been vetted during its hearing, Dockter said he will know whether the bill could be beneficial for North Dakota or if it needs amendments.
"Hopefully in this committee hearing we can find out if there is a constant problem … and find out where these resources are coming from," he said.
Dockter said as North Dakota is still a rural state it can be influenced by other states, but North Dakotans are not excited by that prospect. "Typically, in North Dakota we frown upon outside money coming into the state," he said.
Daniel Weiss, senior executive director of pharmacy benefits at Sanford Health Plan, testified virtually on Jan. 6 before the N.D. House Human Services Committee on HB 1032, which relates to drug prescription costs. Virtual testimony over Zoom is now available during North Dakota's 67th legislative session, which lawmakers hope will improve access for people across the state and lessen the risk of Covid-19.
NDNAEF photo by Dylan Sherman.
A pilot program for attending committee meetings online began in 2019, Bjornson said, but the COVID-19 pandemic exacerbated the need for alternative means of public access to meetings.
"We had concerns about making it accessible to as many people as possible," he said. "Our IT staff worked really hard to design, to the best of their ability, a process that eliminates hurdles and makes it as easy as possible." 
As with any new procedures, Bjornson said, there likely will be kinks along the way, but the state is prepared to fix any issues that come up.
Josh Askvig, state director of the North Dakota AARP, said the switch to online viewing and testimony is an opportunity for himself and association members.
"We have members who live in Grand Forks and Williston who have always wanted to participate, but that is a long drive to come down for a hearing," he said. "Well, now they can watch it online from their home, and there are also virtual testimony options for them now."
Askvig said understanding the new technology has less to do with age and more to do with an individual's own comfort with technology.
"There are folks that are well into their 70s and 80s who will have no problem doing it," he said. "The more they use it, the more they will be comfortable with it."
Askvig said the state AARP has started training and working with members and volunteers on accessing the tools to participate in proceedings this year.
"Another approach we have been taking is [asking] what other ways can we encourage members to reach out to legislators," he said. "Whether it be via email, phone calls or hand-written messages and post cards, those are all tactics that we have not relied on as heavily in the past."
While usually a regular at the Capitol, Askvig said this session will be different as he will try to be more judicious about when he needs to be there in person. "[We want to make sure] legislators understand that when we are in the room, this is a big priority for us," he said.
Askvig said this session will be weird even for himself when he has to testify virtually for the first time.
"I wish we could all be together," he said. "Obviously the right steps and measures have been taken to encourage people to be physically distant and wear masks." 
Rep. Robin Weisz, R-Hurdsfield, said it is great that people have more access, but he worries about online testimonies overwhelming his committee.
"[Anyone] can attempt to testify virtually, and it is up to me, as the chairman, to try to filter that out," he said. "At least in my committee people that show up have priority."
Weisz said he wants members of the public to have their voices heard, rather than leaving the virtual podium to experts from around the country. Virtual testimony also could make it more difficult to gauge the perception of the room, he said.
"I still think for most of us [on the committee], the personal interaction, facial expressions, mannerisms and reactions all help us kind of get a sense of who's where," he said.
Weisz echoed the concern that older constituents might not want to drive long distances to participate in a particular hearing. "People of my generation and older may be discouraged by it, but at the same time I am 75 years old – I don't want to drive from Edgeley or Grafton and I can do it virtually," he said.
Rep. Corey Mock, D-Grand Forks, said while it will be different without as much public in-person attendance, he hopes some of the changes will help people who can't make the trip to the Capitol, this session and in the future.
"If members of the public are able to participate and want to testify, we are able to have them participate remotely," he said. "I am hoping to see more engagement and participation from folks back home in Grand Forks."