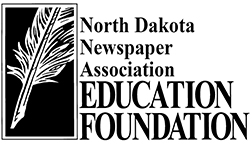 Outnumbered Democrats look to ideas, relationships to advance priorities
By Brayden Zenker
N.D. Newspaper Association Education Foundation
BISMARCK – In the 2021 North Dakota Legislature, Democrats make up just under 15% of the 141 lawmakers present this session – seven Democrats in the State Senate and 14 in the House of Representatives – but they say they will have an impact. 
"I think it's an honor to be a Democrat in the state of North Dakota," said Sen. Joan Heckaman, D-New Rockford, minority leader in that chamber. "I came here in 2006 with a total membership of 21. Our focus was eventually going to be to build that to the majority."
But while the party has decreased in numbers, Heckaman said she thinks the capability of members has increased. 
Rep. Gretchen Dobervich, D-Fargo, is the minority caucus leader in the House. She has been a member since 2017.
"It's a heavy lift and oftentimes an uphill battle," she said. "At the same time, there are so many issues that are non-partisan that our two caucuses work together … It's really more about getting good policy passed for the people than it is getting the credit."
According to the minority leaders, having personal relationships with legislators across the aisle can be critical.
"You don't start this work as Republicans and Democrats," said Sen. Erin Oban, D-Bismarck, assistant minority leader. "You start this work as two people trying to find common ground, to build a relationship, to get some understanding of what makes people tick, what experiences do they have that give them the perspectives that they have, where are areas where you can connect with one another so that when it comes time to disagree it's not so personal. That's just how I've operated as a human being and that's certainly how I operate as a legislator."
House Minority Leader Joshua Boschee, D-Fargo, agreed. "North Dakota is one big city with really long roads, and so even though we are here for an intense 80 days we're still going to see our colleagues and interact with them," he said. "One of the ways we're able to get things passed is that we know each other personally."
Despite personal relationships, the numbers mean Republicans can easily defeat Democrats' proposals.
"It certainly is frustrating at times, especially when you know that there is good policy that can be passed or a different way we could do things," Boschee said. "You have to spend a lot of time and extra work convincing our colleagues of why it's important."  
Dobervich said Democrats bring forward legislation even though they know it will be defeated. That can be disheartening, but it may lay important groundwork.  
"Being in a micro minority, people will say, 'You've only passed one bill in all the time you've been here?' Or you have this really great bill that would really make a significant difference, but you can't get the votes for it and it dies," she said. "It gets exhausting sometimes and it does get frustrating sometimes. There are times where I just feel like I hit a wall and then I remind myself that North Dakota isn't just one voice. That is always kind of my pick-me-up – the people of District 11 hired you and you work for them and want to be a good employee and so you need to get up and get out there and do the work they hired you to do."
According to Heckaman, a bill may die in one session but be re-introduced in following sessions. 
"Hopefully during the session, the bills we introduce will be successful," she said. "But we've found out from other sessions that if our bills are not successful one session they seem to come back as a majority party idea in future sessions. Sometimes we bring the good ideas forward and they are accepted. We don't care who gets the credit for it. We just care about how it affects the people of North Dakota."
According to Heckaman, the four major areas Democrats are focusing on this session are health and wellness, economic security, education and infrastructure.
With North Dakota being consistently Republican-dominated and conservative, Democrats in North Dakota may differ from Democrats across the country. "There is a joke that a North Dakota Democrat is really a Minnesota Republican," Dobervich said. "The Democrats in North Dakota tend to be fairly conservative."  
She said that tendency is due to the values that North Dakotans generally pride themselves on.
"We're from North Dakota, we've lived here our whole lives, our values are North Dakotan values and even some of our policies we put forward that seem far-left or radical to some people, are really North Dakota values," Dobervich said. "They are about caring about people, caring about the land and wanting businesses to thrive." 
For Oban, the tendency for North Dakotans to be more conservative and lean heavily Republican means she needs to connect with her constituents in all ways possible. That includes staying engaged in state issues and with constituents.
"If you want to be a good legislator, you don't just clock in on day one of the legislative session and clock out at the end," she said. 
"I don't ever make empty promises. I think that is something that politicians are accused of that I refuse to be. I don't pretend to be somebody that I'm not. My interest when I'm here is in representing my district, not in representing just Democrats, not in excluding Republicans."
Minority leaders say they are hopeful for opportunities the future may bring for the party in North Dakota, including with younger voters. 
Dobervich said she would like to see people move away from voting only along party lines.
"I am hopeful that new voters will be more inclined to vote for the person who will do the best job for them," she said. "When we have varying views in the room, we get better solutions because we're viewing things from different perspectives." 
Daniel Weiss, senior executive director of pharmacy benefits at Sanford Health Plan, testified virtually on Jan. 6 before the N.D. House Human Services Committee on HB 1032, which relates to drug prescription costs. Virtual testimony over Zoom is now available during North Dakota's 67th legislative session, which lawmakers hope will improve access for people across the state and lessen the risk of Covid-19.
NDNAEF photo by Dylan Sherman.
A pilot program for attending committee meetings online began in 2019, Bjornson said, but the COVID-19 pandemic exacerbated the need for alternative means of public access to meetings.
"We had concerns about making it accessible to as many people as possible," he said. "Our IT staff worked really hard to design, to the best of their ability, a process that eliminates hurdles and makes it as easy as possible." 
As with any new procedures, Bjornson said, there likely will be kinks along the way, but the state is prepared to fix any issues that come up.
Josh Askvig, state director of the North Dakota AARP, said the switch to online viewing and testimony is an opportunity for himself and association members.
"We have members who live in Grand Forks and Williston who have always wanted to participate, but that is a long drive to come down for a hearing," he said. "Well, now they can watch it online from their home, and there are also virtual testimony options for them now."
Askvig said understanding the new technology has less to do with age and more to do with an individual's own comfort with technology.
"There are folks that are well into their 70s and 80s who will have no problem doing it," he said. "The more they use it, the more they will be comfortable with it."
Askvig said the state AARP has started training and working with members and volunteers on accessing the tools to participate in proceedings this year.
"Another approach we have been taking is [asking] what other ways can we encourage members to reach out to legislators," he said. "Whether it be via email, phone calls or hand-written messages and post cards, those are all tactics that we have not relied on as heavily in the past."
While usually a regular at the Capitol, Askvig said this session will be different as he will try to be more judicious about when he needs to be there in person. "[We want to make sure] legislators understand that when we are in the room, this is a big priority for us," he said.
Askvig said this session will be weird even for himself when he has to testify virtually for the first time.
"I wish we could all be together," he said. "Obviously the right steps and measures have been taken to encourage people to be physically distant and wear masks." 
Rep. Robin Weisz, R-Hurdsfield, said it is great that people have more access, but he worries about online testimonies overwhelming his committee.
"[Anyone] can attempt to testify virtually, and it is up to me, as the chairman, to try to filter that out," he said. "At least in my committee people that show up have priority."
Weisz said he wants members of the public to have their voices heard, rather than leaving the virtual podium to experts from around the country. Virtual testimony also could make it more difficult to gauge the perception of the room, he said.
"I still think for most of us [on the committee], the personal interaction, facial expressions, mannerisms and reactions all help us kind of get a sense of who's where," he said.
Weisz echoed the concern that older constituents might not want to drive long distances to participate in a particular hearing. "People of my generation and older may be discouraged by it, but at the same time I am 75 years old – I don't want to drive from Edgeley or Grafton and I can do it virtually," he said.
Rep. Corey Mock, D-Grand Forks, said while it will be different without as much public in-person attendance, he hopes some of the changes will help people who can't make the trip to the Capitol, this session and in the future.
"If members of the public are able to participate and want to testify, we are able to have them participate remotely," he said. "I am hoping to see more engagement and participation from folks back home in Grand Forks."