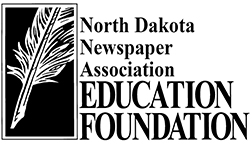 After receiving vaccines, North Dakota nursing homes are ready for a new normal
By Alexandra Kautzman
N.D. Newspaper Association Education Foundation
BISMARCK – Administrator Tammra Peterson knows how important visitation is for her residents at Bethel Lutheran Nursing & Rehabilitation Center in Williston. 
She said she still remembers when one of her residents got to see her family after missing them for months. Even though the resident has memory problems, she was able to recognize her family and smiled when she saw them.
"It gives me goosebumps even now hearing about how she lit up. She recognized her family and was just so overwhelmed," Peterson said. "The emotions you feel, It truly is something that you can't even explain." 
Long-term care facilities across the state have had to limit visitation as a safety precaution during the pandemic. While some facilities allow in-person visits with masks and social distancing in mind, others are only able to have compassionate care or end-of-life care visits for their residents.
At the 2021 Legislature, Sen. Kristin Roers, R-Fargo, has introduced Senate Bill 2145 which would allow residents to assign "designated caregivers." If passed, these caregivers would be able to freely visit the resident to offer physical, spiritual or emotional support. Administrators said their residents need this support.
Peterson said since they have not been able to go 14 days without having a positive case, they have not had regular visitation since last March. She said this has been hard for her residents.
"Bethel has been pretty unfortunate when it comes to that," Peterson said. 
Facilities have had to come up with alternative ways to keep residents in touch with their families. They rely heavily on phone calls and virtual meetings like Facetime or occasionally have families visit outside when the weather permits.
Grant Richardson, a senior executive at Bethany Retirement Living in Fargo, said plexiglass barriers make all the difference during in-person visits since residents can visit with their families without a mask.
"Those have been a godsend," Richardson said. "You can see a twinkle in an eye or a tear, but being able to see a whole face and the emotions they may be having is much more visible and makes communication easier." 
Richardson said residents also talk with their families through windows, with their hands pressed against the glass. He said he cannot describe how the sight makes him feel. 
"On the one hand it's sweet and moving, and on the other hand it's frustrating and disappointing that we have to do that," Richardson said.
Administrator Sandy Gerving from Marian Manor Healthcare Center in Glen Ullin said they have taken extra steps to ensure that their residents get the social interactions they need. She said the staff makes sure that each resident gets at least one visit a day to keep them in high spirits.
Gerving said with extra precautions, residents have occasionally been able to leave to see their family for special events. One resident got to attend a wedding so that he could be a part of a family photo. 
"We do have some that they have gone out for a family event but then they get quarantined for 14 days when they come back," Gerving said. "But for them, it's well worth it."
Mental health has been a major concern for administrators. Some residents have shown a decline in cognitive function and in their overall health. In these instances, administrators said family visitation is made a priority. 
Richardson said while some of his residents have had a decline in mental health, they are coping and try to maintain a positive attitude.
"They've been remarkably resilient," Richardson said. "This isn't their first challenge and through their lifetimes, they have learned to accommodate and deal with whatever cards they have been dealt."
The dispersal of the COVID-19 vaccine has administrators hopeful that things will soon return to normal. Peterson said most of her residents have taken the first dose of the vaccine and are ready to see their families again.
"Our fingers are crossed," Peterson said. "It's the first time we've gotten this close to that point since it all started, so we're very excited and we're hopeful this is going to bring a positive change." 
Richardson said everyone at Bethany who wanted it has gotten the vaccine. He said after 10 long months, residents can start to see the light at the end of the tunnel. 
"We indeed hope that this is the beginning of the end and that we can return to whatever normal is after this in the near future," Richardson said. "We're hopeful, and hope can drive a lot of things."
Daniel Weiss, senior executive director of pharmacy benefits at Sanford Health Plan, testified virtually on Jan. 6 before the N.D. House Human Services Committee on HB 1032, which relates to drug prescription costs. Virtual testimony over Zoom is now available during North Dakota's 67th legislative session, which lawmakers hope will improve access for people across the state and lessen the risk of Covid-19.
NDNAEF photo by Dylan Sherman.
A pilot program for attending committee meetings online began in 2019, Bjornson said, but the COVID-19 pandemic exacerbated the need for alternative means of public access to meetings.
"We had concerns about making it accessible to as many people as possible," he said. "Our IT staff worked really hard to design, to the best of their ability, a process that eliminates hurdles and makes it as easy as possible." 
As with any new procedures, Bjornson said, there likely will be kinks along the way, but the state is prepared to fix any issues that come up.
Josh Askvig, state director of the North Dakota AARP, said the switch to online viewing and testimony is an opportunity for himself and association members.
"We have members who live in Grand Forks and Williston who have always wanted to participate, but that is a long drive to come down for a hearing," he said. "Well, now they can watch it online from their home, and there are also virtual testimony options for them now."
Askvig said understanding the new technology has less to do with age and more to do with an individual's own comfort with technology.
"There are folks that are well into their 70s and 80s who will have no problem doing it," he said. "The more they use it, the more they will be comfortable with it."
Askvig said the state AARP has started training and working with members and volunteers on accessing the tools to participate in proceedings this year.
"Another approach we have been taking is [asking] what other ways can we encourage members to reach out to legislators," he said. "Whether it be via email, phone calls or hand-written messages and post cards, those are all tactics that we have not relied on as heavily in the past."
While usually a regular at the Capitol, Askvig said this session will be different as he will try to be more judicious about when he needs to be there in person. "[We want to make sure] legislators understand that when we are in the room, this is a big priority for us," he said.
Askvig said this session will be weird even for himself when he has to testify virtually for the first time.
"I wish we could all be together," he said. "Obviously the right steps and measures have been taken to encourage people to be physically distant and wear masks." 
Rep. Robin Weisz, R-Hurdsfield, said it is great that people have more access, but he worries about online testimonies overwhelming his committee.
"[Anyone] can attempt to testify virtually, and it is up to me, as the chairman, to try to filter that out," he said. "At least in my committee people that show up have priority."
Weisz said he wants members of the public to have their voices heard, rather than leaving the virtual podium to experts from around the country. Virtual testimony also could make it more difficult to gauge the perception of the room, he said.
"I still think for most of us [on the committee], the personal interaction, facial expressions, mannerisms and reactions all help us kind of get a sense of who's where," he said.
Weisz echoed the concern that older constituents might not want to drive long distances to participate in a particular hearing. "People of my generation and older may be discouraged by it, but at the same time I am 75 years old – I don't want to drive from Edgeley or Grafton and I can do it virtually," he said.
Rep. Corey Mock, D-Grand Forks, said while it will be different without as much public in-person attendance, he hopes some of the changes will help people who can't make the trip to the Capitol, this session and in the future.
"If members of the public are able to participate and want to testify, we are able to have them participate remotely," he said. "I am hoping to see more engagement and participation from folks back home in Grand Forks."