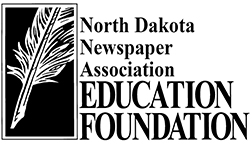 Virtual participation seen as a new opportunity for North Dakotans
Josh Askvig, state director for the AARP of North Dakota, commended the state for its push to make sure meetings are able to be viewed by the public.
By Dylan Sherman
N.D. Newspaper Association Education Foundation
BISMARCK – Social distancing and consequent restrictions on in-person access to meetings during North Dakota's 67th legislative session may seem a barrier to citizen participation, but the state is providing a new way for North Dakotans to engage in proceedings.
North Dakotans are encouraged to participate in the legislative process electronically in order to maintain social distancing and other measures aimed at keeping people healthy, said John Bjornson, executive director of the Legislative Council.
"By law all legislative meetings are open to the public, but we are trying to limit access to committee rooms," he said. "We have updated all our livestreaming capabilities, to allow people to see what's going on and follow the proceedings while not having to be present in the committee rooms."
Daniel Weiss, senior executive director of pharmacy benefits at Sanford Health Plan, testified virtually on Jan. 6 before the N.D. House Human Services Committee on HB 1032, which relates to drug prescription costs. Virtual testimony over Zoom is now available during North Dakota's 67th legislative session, which lawmakers hope will improve access for people across the state and lessen the risk of Covid-19.
NDNAEF photo by Dylan Sherman.
A pilot program for attending committee meetings online began in 2019, Bjornson said, but the COVID-19 pandemic exacerbated the need for alternative means of public access to meetings.
"We had concerns about making it accessible to as many people as possible," he said. "Our IT staff worked really hard to design, to the best of their ability, a process that eliminates hurdles and makes it as easy as possible." 
As with any new procedures, Bjornson said, there likely will be kinks along the way, but the state is prepared to fix any issues that come up.
Josh Askvig, state director of the North Dakota AARP, said the switch to online viewing and testimony is an opportunity for himself and association members.
"We have members who live in Grand Forks and Williston who have always wanted to participate, but that is a long drive to come down for a hearing," he said. "Well, now they can watch it online from their home, and there are also virtual testimony options for them now."
Askvig said understanding the new technology has less to do with age and more to do with an individual's own comfort with technology.
"There are folks that are well into their 70s and 80s who will have no problem doing it," he said. "The more they use it, the more they will be comfortable with it."
Askvig said the state AARP has started training and working with members and volunteers on accessing the tools to participate in proceedings this year.
"Another approach we have been taking is [asking] what other ways can we encourage members to reach out to legislators," he said. "Whether it be via email, phone calls or hand-written messages and post cards, those are all tactics that we have not relied on as heavily in the past."
While usually a regular at the Capitol, Askvig said this session will be different as he will try to be more judicious about when he needs to be there in person. "[We want to make sure] legislators understand that when we are in the room, this is a big priority for us," he said.
Askvig said this session will be weird even for himself when he has to testify virtually for the first time.
"I wish we could all be together," he said. "Obviously the right steps and measures have been taken to encourage people to be physically distant and wear masks." 
Rep. Robin Weisz, R-Hurdsfield, said it is great that people have more access, but he worries about online testimonies overwhelming his committee.
"[Anyone] can attempt to testify virtually, and it is up to me, as the chairman, to try to filter that out," he said. "At least in my committee people that show up have priority."
Weisz said he wants members of the public to have their voices heard, rather than leaving the virtual podium to experts from around the country. Virtual testimony also could make it more difficult to gauge the perception of the room, he said.
"I still think for most of us [on the committee], the personal interaction, facial expressions, mannerisms and reactions all help us kind of get a sense of who's where," he said.
Weisz echoed the concern that older constituents might not want to drive long distances to participate in a particular hearing. "People of my generation and older may be discouraged by it, but at the same time I am 75 years old – I don't want to drive from Edgeley or Grafton and I can do it virtually," he said.
Rep. Corey Mock, D-Grand Forks, said while it will be different without as much public in-person attendance, he hopes some of the changes will help people who can't make the trip to the Capitol, this session and in the future.
"If members of the public are able to participate and want to testify, we are able to have them participate remotely," he said. "I am hoping to see more engagement and participation from folks back home in Grand Forks."